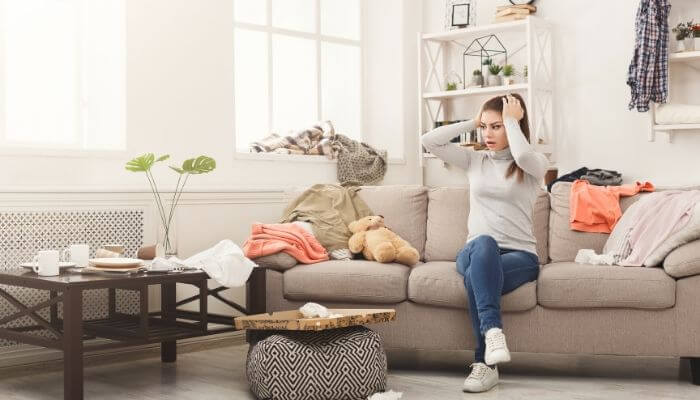 1. A CLEAN HOUSE WILL SELL FASTER
Pretend you are a buyer seeing your house for the first time. Walk up to the front door. Does anything other than the house jump out at you? Can you see through the windows? When was the last time you dusted your baseboards? Walk through the front door, what do you see? You want the buyer to be looking at your home and not all the stuff in it. 
2. GO ROOM BY ROOM STARTING WITH THE ENTRANCE
Write out a plan that you can check off as you go. The plan should allow you to declutter and clean systematically. When creating your plan, don't only list the rooms but also list specific tasks you need to complete. Closets – The more you pack and toss or donate now, the easier your job is when you move.
3. TURN YOUR HOME INTO A HOUSE
Family photos, mementos and other personal items can make it difficult for potential buyers to envison your space as theirs. Help them by removing the personal touches before they arrive.
4.DON'T FORGET ABOUT THE EXTERIOR.
Curb appeal is an important thing. Do you have children's toys out in the yard?  Make sure the landscaping is clean looking, remove any dead plants or flowers. Top dressing gardens with mulch is a fast and easy way to make out of season gardens look their best. Make sure tools are organized or in the shed. All of this will help the outside of the home look clutter-free. 
5.OPEN UP THE SPACE
Remove some of the furniture from the rooms in your home to open up the space if needed. If your home has a small footprint, removing furniture can help to make it feel larger. In the daytime, open the blinds and allow in as much natural light, if its a typically dark space, add a lamp to brighten it up.
LOOKING TO SELL YOUR HOME IN VICTORIA OR SOUTHERN VANCOUVER ISLAND?
Give me a call, let's chat. I am always happy to answer any questions about the Victoria real estate market.
250.886.7349
Shannon.AitchisonRealty@gmail.com